so picture this.
my family has a screened in porch/three season room type thing off the back of our house that faces our pond and my aunt's memorial garden that my mom spent like, four days working on.
it's my family's favourite part of the house because it's like... outside. but with a table. and without the sun.
anywhoo, last night this big storm blew in and my mom, my dad and i are standing in the safety of our porch and we're watching it rain. scratch that, we're watching it
pour
and the wind is sweeping rain across the pond and you could barely see the hospital that i live behind.
(i have noticed that i live halfway between a hospital and a funeral home. i'm not sure how this bodes. but i also live behind a chocolate factory, so that's neat.)
so we're all standing there not saying anything and i'm all hot and sweaty because i just got back from a three hour swim meet in the sun where i scream and cheer for children and dry their tears and stress over them, and my mom kind of looks like a prairie dog because she's kneeling backwards on a chair like,
wow the rain is so pretty
and my dad has his hands behind his back like some contemplative vampire.
and then i'm like,
should i blog about pooping?
reactions.
me: should i blog about pooping? i mean, i've had to poop for like... three hours.
my dad:
my mother:
my dad:
my mother: YOU TOTALLY SHOULD. THERE'S AN ENTIRE CHAPTER ABOUT DEFECATION IN MY ANATOMY BOOK, IT'S RIGHT HERE ON THE TABLE, I THINK IT'S CHAPTER THIRTEEN. YOU CAN TALK ABOUT MASSIVE BOWEL--
my family.
so i'm going to blog about pooping.
why?
because everybody poops.
have you ever just like... sat around and thought about how everybody poops? yes? no?
i bet you have
.
i don't really understand why pooping is such a taboo thing, kind of like periods and sex. like, your body has waste and you gotta get rid of it. but it's hard to poop in public bathrooms because of taboos and you know... plopping noises.
my freshman year at alma i had a community bathroom and one time i had poop like, RULLLLL BAD and right when i was about to go this girl came in and started to brush her teeth and take off all of her makeup and i just couldn't go until she left.
and believe me, her nighttime routine was like, FIFTEEN MINUTES and i sat in that stall for FIFTEEN MINUTES with my cheeks clenched like, "please dear god leave please dear god leave LEAVE LEAVE LEAVE"
and when she did it was one of the greatest poops of my life.
i've also noticed that whenever you have a really great poop, you're always like,
oh my god, that poop was so great i will never have a poop that great again
and then three weeks later you say the same thing because you forgot about the previous one.
after i talked with my parents about blogging about pooping last night, i had one of those poops because i'd had to go for like... three hours. at least.
my parents also discussed this.
me: i've had to poop for like... three hours.
my dad: you should probably go.
me: i've been holding it in because i didn't have time to poop at work.
my mother: did you know that your anal sphincter is the only sphincter in your entire body that you can control? it's the reason that you didn't poop your pants at the swim meet!
me: well that's good, i'm wearing coral coloured shorts.
my mother the anatomy teacher.
we then talked about those poops that just... come upon you.
you know, you're sitting in class, on the computer, doing something mundane, or maybe you're doing something really important, and all of a sudden...
IF YOU DON'T POOP RIGHT NOW IT'S JUST GOING TO COME OUT AND YOU CANNOT EVEN STAND IT BECAUSE YOU HAVE TO POOP
RIGHT THE EFF NOW
i forget what my mother called those. massive bowel somethings.
those are the
worst
, man.
that happened to me on tuesday at a swim meet. we had just finished warm ups and i was highlighting my heat sheet and suddenly
THE URGE TO POOP OVERCAME ME
and i ran.
in february, my friend barbara and i went out to dinner together in mount pleasant and saw silver linings playbook. it was an RA date because we both needed to spend time together. barbara was incredibly stressed and my boyfriend of two and a half years was in the process of dumping me as painlessly as possible, and we just needed the time together. on a date.
while we sat in the movie theatre, it had snowed six inches. we drove back to alma in a practical blizzard through eight inches of unplowed snow in the highway, and being the incredibly anxious person that i am, i was terrified. and driving like... five miles an hour.
after that perilous hour journey home, barbara and i sat on my dorm room floor and had some food therapy, and then she braved the snow to walk across campus back to her dorm. i turned on spider-man, got on tumblr, and did normal evening things.
you're wondering where this story is going in my blog about pooping.
about ten minutes after she left, my stomach felt funny. all that anxiety about driving had built up. and mingled with my food therapy.
rule number one of my life: when my stomach feels funny, i attempt to poop. sometimes this has kept me from vomiting. no lie.
luckily, in the dorm room that i inhabited for my sophomore and junior years at alma, i had my own bathroom. my lone suitemate was out, so i had the bathroom all to myself. so i sat down to poop.
and i had massive diarrhea.
YEP. I'M GOING THERE.
diarrhea scares me almost as much as vomiting. one time i did it at my grandma's house and i cried. i'm not sure what about it that's so scary, but whenever it happens, i have to tell myself, normally out loud, that it'll all be just fine, i'm just pooping a little more hardcore than usual.
so i sat there and i told myself that while i had the hershey squirts. and since my dorm door was locked and i live alone, i had my bathroom door open to break down social norms, and i could see spiderman on my TV so i literally sat there and pooped and watched spiderman.
when i was done, i went back to tumblr for about... fifteen minutes.
then my stomach did this weird rumbly thing and NOPE, BACK ON THE TOILET, BRO.
my appendix exploded when i was eight. i was in the hospital for a week and my bowels shut down for a while. once they decided to start running again, i had problems with diarrhea. (maybe that's why i hate it so much.) while we were on a very long car trip about two days after i got out of the hospital, my stomach bubbled unpleasantly. i told my mom, who told me that i was going to have diarrhea.
now whenever my stomach bubbles unpleasantly i'm like, EVERYBODY GTFO and i run to the bathroom.
so when my stomach rumbled again i was like, LOL NOPE and back on the throne. this happened four times that evening.
when i had a really bad ear infection my sophomore year at alma, i took awkward antiobitics. they always say that they can cause diarrhea, but i'd never really worried about it.
until i farted and oops. (i didn't totally shit my pants, i swear. it was like... a nugget. a very small nugget. and i showered.)
it reminded me vividly of my mother, who used to run marathons. sometimes, when she runs farther than normal, she poops in people's yards.
she's going to kill me for putting this on my blog.
but you know what? SOMETIMES YA GOTTA POOP. in someone's yard. because you're ten miles from home and running.
everybody shits.
some more than others.
when i travel, i don't poop as much as i normally do, and quite honestly, i don't poop as much as a normal person anyway. i know people that poop a nice healthy once a day, i know people that poop twice a day.
i'm more of a... sometimes i poop at night but it's mostly a kind of every other day oh i should probably poop now type deal.
i pooped yesterday
and
today, and it was quite awesome.
continuing more conversation from last night.
me: my poop was green the other day.
my mother: that happens to me when i eat blueberries. or when i travel.
me: now that you mention it, my poop was green in england...
my father: why haven't you blogged about this yet?
this morning.
me: i almost blogged about pooping last night.
hannah: your blog about york minster was really beautiful. but i would've read your blog about pooping.
me: i think i'll do it tonight.
emma: YISSSSS.
hannah had the chance to say "i'd read the shit out of it" but she didn't take it.
that's okay.
YOU'VE READ THE SHIT OUT OF THIS POST.
ahaha. emily makes a pun. about pooping. in her blog. about pooping.
so the entire time i've been writing this and watching spiderman and talking to adam about his glorious hair, i've had my mom's anatomy book on my lap.
maybe so i could open it up to chapter thirteen and be like,
this is how pooping works!
but i haven't opened it up at all. now it's stuck to my legs because i'm wearing my cross country shorts from sixth grade that barely cover my ass and it's just... stuck to my thighs.
i will open it to chapter thirteen.
the respiratory system.
WRONG CHAPTER, MOTHER.
ahhhh chapter fourteen, the digestive system.
this is teacher's edition, so this chapter comes with five "did you get it?" questions. sounds legit.
so this is basically how my mom's textbook describes pooping.
"the rectum is generally empty, but when feces are forced into it by mass movements, the defecation reflex is initiated. the defecation reflex is a spinal reflex that causes the walls of the sigmoid colon and rectum to contract and the anal sphincters canal to relax. as the feces are forced through the anal canal, messages reach the brain, giving us time to make a deicision as to whether the external voluntary sphincter should remain open or be constricted to stop the passage of feces. if it is not convenient, defecation can be delayed temporarily."
to shit or not to shit, that is the question.
YOU ALL JUST LEARNED HOW YOU HOLD YOUR SHIT IN FOR EXTENDED PERIODS OF TIME WHEN A BATHROOM HAS NOT PRESENTED ITSELF.
i'm not really sure how to end this. it would be kind of poetic if i was like, "well i'm off to go poop now" but i already did that before i cleaned my room, hijacked my mom's anatomy textbook, and educated you all about pooping and shared my own poop stories.
share your poop story! everyone poops! it's time to talk about it!
then maybe i won't have to hide in a bathroom for fifteen minutes because it's socially awkward to plop when other people are around.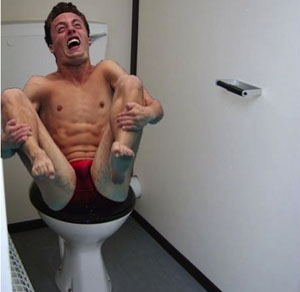 (i googled cartoon poop. but adam gave me this. we're pretty sure that's tom daley.)