i'm at that point in my life where i need to start getting adult things.
i guess it started when i lived in wright hall my senior year at alma, which is apartment style.
so my mom and i were like, LET'S GET BIG KID THINGS!
i didn't really know the specs of the apartment and what it would have and wouldn't have, so after we started moving all of my stuff in for my last year of college, we made a trip to walmart to get some stuff.
big kid stuff.
we got approximately: a dish drying rack, some cheap pots and pans, some extra plastic plates and cups and stuff, and like... generic cheap kitchen stuff.
it was exciting! and i got to use some baking pans i inherited!
it's that time where i inherit things.
the other week at my grandma's house there was serious discussion about me inheriting an antique dining room set.
and i was like,
am i really at this point in my life?
i have a job prospect coming up. something other than kroger. it's a big kid job in big rapids. with like... benefits. and a salary.
a salary that's enough for me to move out of my parents' house and live in apartment.
IT'S THAT TIME.
of course, if i don't get this job and i'm still living at home working at kroger for minimum wage, i'm going to be like, the saddest person ever because my mom is kinda hyping this whole apartment thing up.
my mother: OH MY GOD WE HAVE TO BORROW GRANDPA'S TRUCK TO MOVE YOUR STUFF INTO YOUR APARTMENT AND WE'LL GET STUFF TO DECORATE IT AND FURNITURE AND STUFF AND I BET THAT DADDY WOULDN'T MIND IF WE GAVE YOU ONE OF THE OLD COUCHES IN THE BASEMENT AND WOW YOU'LL NEED A KITCHEN TABLE AND CHAIRS OF COURSE AND ARE YOU GOING TO TAKE YOUR OLD TV?
i'm not going anywhere without my VCR.
but even if i don't get this job, i still need like... adult things. for adulting.
my parents recently put flooring down in our attic. it's about time, we've lived in this house for seven years. so now all of my college stuff is residing up there. my mom is really excited about it and is now like "we can store all of your things in the attic now eeee!" it's really cute, her enthusiasm about all of this.
she got me a twelve piece nonstick cookware set and really intense white dishes on sale at kohl's.
i'm kind of terrified.
this is my biggest problem.
me: OMG LOOK AT THIS CUTE THING I CAN DECORATE MY APARTMENT WITH AWWW LOOK AT THIS LITTLE TOOTHBRUSH HOLDER AWWW I WANT ALL OF THIS CUTESY STUFF
my wallet: HAHAHAHAHAHA
it's a constant battle. especially at target.
they have the cutest stuff EVARRRR
so today my mom and i decided to go garage saling in my grandma's neighbourhood.
i haven't been to garage sale in forever. we had a garage sale when i really little and my mom sold my favourite toy to a little girl and i sat on my couch and cried for an hour and a half.
that's been my experience with garage sales.
right off the bat, most of the garages were pretty picked over. the first one we went to had furniture and i was like, HELLO FURNITURE and went into this lady's garage and she was like, OH HELLO WELCOME TO MY CRIB and i took a look at a table and chair set.
it wasn't a full table. it was one of those little ones that's kinda tall? it looked like the one that came with my wright hall apartment. it was nice and oak and sturdy and had some stains and water marks and i was like, this'll be like... forty bucks.
a hundred and fifty.
like, what?
IT'S A GARAGE SALE, LADY. if you wanna part with your furniture, you gotta tone it down a bit.
i pointed at the price tag and my mom and i quickly left. no furniture happening here.
the next house we went to had a weird puppy that made weird noises and two happy old ladies sitting in lounge chairs. the first thing i saw was a box of VHS tapes.
THAT IS MY JAM.
so i start picking through the VHS tapes and my mom was like,
i thought we were here for adult things
and i'm like,
but mom my TV has as VCR and i am not parting with that at all
while i was going through the VHS tapes, the two old ladies had fun showing me this huge fancy lamp that looked like it was from the sixties.
IT HAD A LIGHT UP BOTTOM AND IT WAS PRETTY MUCH THE COOLEST
my mom wouldn't let me get it. the price tag said "make an offer" and i was totally up for twenty bucks, but the look on my mom's face told me everything. the lamp wasn't happening.
i left with silence of the lambs on VHS and a cute crock that had hand painted vegetables on it. it was filled with wooden spoons, salad tongs, and pasta scoopers.
i got it all for two bucks.
the next garage had a guy that i thought was old but my mom thought was young and he had a HUGE BOX OF VHS TAPES.
and i was like,
yo this is my jam how much are these
and he was like,
oh thank god nobody's bought these, they're five cents
five. cents.
i left with robin hood men in tights, aladdin, the prince of egypt, and pulp fiction.
DEFINITELY ADULT SHOPPING, MY FRIENDS.
so i came home with five VHS tapes and a legitimate ceramic hand painted crock filled with kitchen utensils for under three bucks.
not bad, emily, not bad.
this is why garage saling is the absolute best.
i wish i could say that my new bookshelf was cheap, the one that my mom ordered me for my birthday and that i have to pay for half of.
it's like, a real big kid bookshelf. six feet tall with deep shelves and stuff. and it was far more expensive than i wanted it to be.
but it'll look so sweet in my apartment when i move out.
people should have garage sales every weekend just so i can find weird stuff for fifty cents. like awkward paintings and strange mugs.
BUT LOOK AT THIS HAUL, YOU GUYS.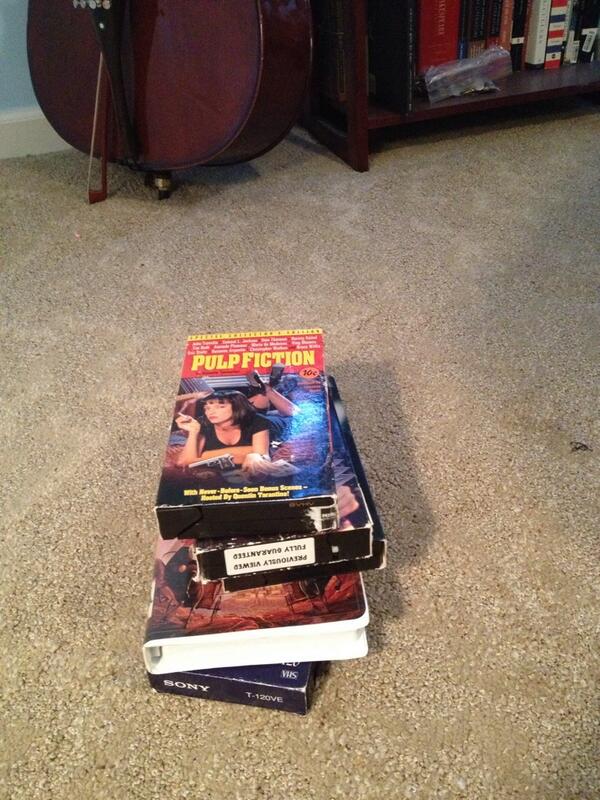 I AM SO EXCITED. GARAGE SALING FOR THE WIN.